Practitioner in the Spotlight
AS LONG AS I KNOW WHAT TO DO, I'LL DO IT
Coaching with Colournostics
What impressed me a lot this past week was Linda's reaction.
Is it really that easy? With a sigh of relief, she sits back in her chair and starts laughing, at the same time shaking her head. 'Well, if I had known earlier that colour would give so much insight!' 'Shit', she says, (they are her words).
Linda has a sense of humour. Innately, she is an optimistic go-getter, but that hasn't come out for quite some time, just like some of my clients. Sometimes you feel like you are standing still for a long time while 'normal daily life' goes on.
One afternoon she sits in front of me online, via Zoom because that is such a convenient tool for making an appointment remotely. I tell her that in my mind I am sitting next to her, she is on her right, I on her left. I operate the buttons of the colours she chooses.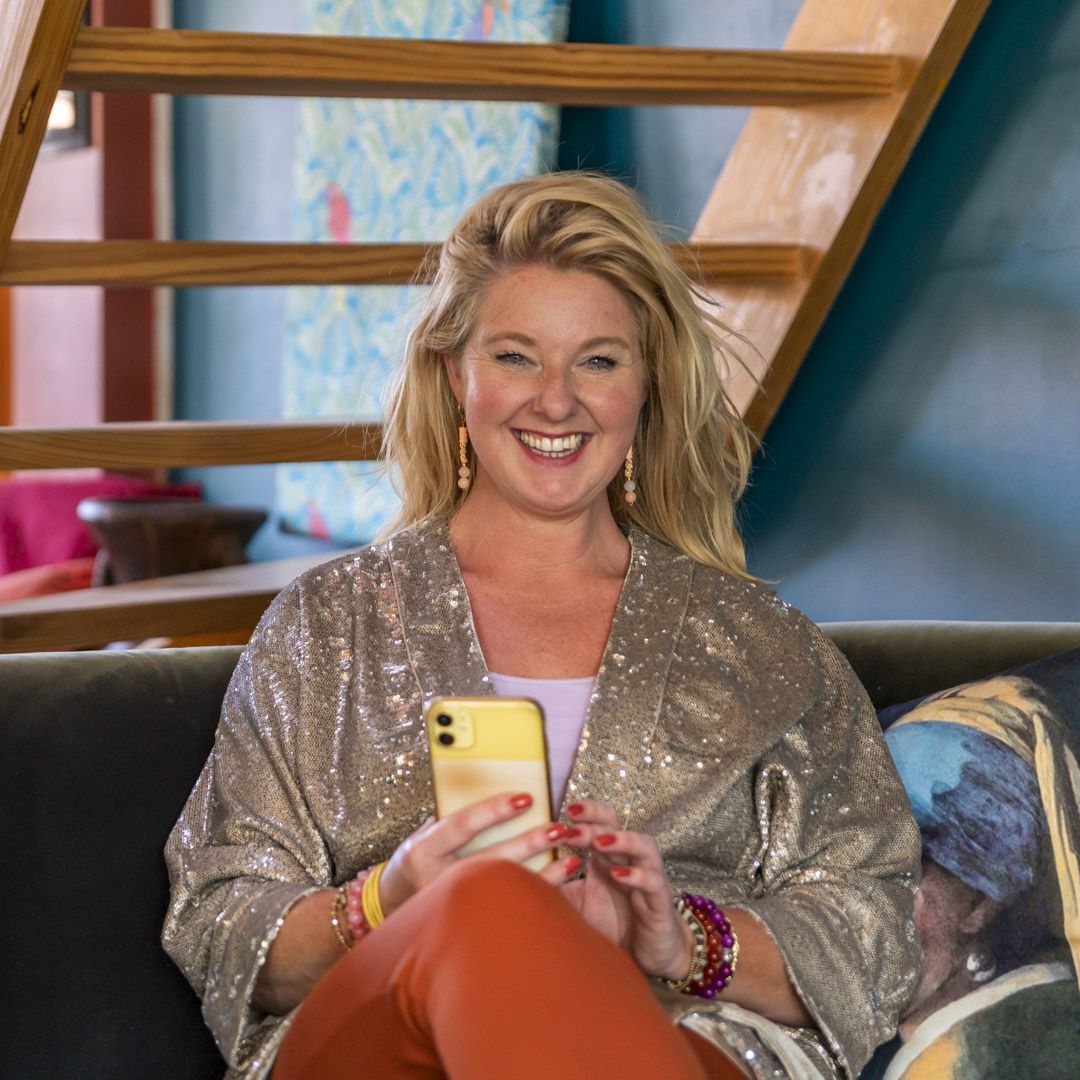 The 5-step Colournostics process
The first colour is already a hit, spot-on, without her knowing anything about the meaning of colour. When I ask her which colour she selects for what is on her mind, she picks BORDEAUX. Beforehand, I had already explained to her that we get clarity in 5 clear steps.
So, Bordeaux, it is.
She reads the sentences and I see the colour change in her face. Her cheeks turn white and without saying a word she diligently writes down the sentences that touch her. Afterwards, she says that she constantly compares herself to others and that this has made her reticent, she has trouble seeing her own value and her relationship with money is not the best either. As a self-employed person, this is obviously not useful, but it is recognizable to many female entrepreneurs.
The first insight is in the bag.
As a second colour, she chooses BLUE, the beautifully bright royal blue. She pens the following sentences on her sheet:
- I feel alone.
- I can't really relax.
- I feel I am stuck, are her sentences, but the one that touches her most is this one:
- 'I am weighted down by too much responsibility.
After these 2 steps always comes the most fun part because once you have clear insight things often move fast. She knew the core of her real issue.
Taking a JOYRIDE
This Colournostics tool, I call it a JOYRIDE myself, works so efficiently. You choose colours instead of words and each colour has its own qualities that you only see after you have chosen.
I ask Linda to close her eyes for a moment and take her through a short, safe visualization. Many women find the moment that they no longer have control very exciting, but I don't do anything that is scary or that makes you lose your mind. It's nice to know you can relax and listen to my voice.
Refreshed, she opens her eyes again after the WATERFALL visualization. She turns her head to loosen up her neck, and I see that the red blush on her cheeks looks good on her. She's all there again, fresh and fruity.
She smiles contentedly.'How lovely this is,' she says softly. She nods when I ask if she wants to go on to her own solutions.
Choosing the colours that support you
ORANGE, she picks with all her heart.
The question was, 'When everything is solved, without having to know how to do it, what colour do you choose? So ORANGE, the colour of a gut feeling.
- Free, happy and independent.
- The feeling that she belongs somewhere.
Orange, by the way, is the opposite colour of the blue of her block. Unconsciously she 'knew' what she needed, that's the beauty of the Colournostics method.
No one is directing you, you are directing yourself.
With a sigh of relief, she writes down:
- 'More extroverted following my gut feeling, my intuition, without obstacles'.
- Wow, I want that again!
Next, she picks TURQUOISE & INDIGO as the 4th and 5th colour, to make her new insights more powerful.
A new perspective
After the session, she would like to share a personal piece with me, of course, that remains between her and me. Everyone has those personal things that you don't want to share with the world, often they are not so intense, but just because you are ashamed that you could not tackle them sooner.
A listening ear and some good practical tips on how she can use the colours she chose specifically for the coming time help her enormously.
She really doesn't want to end up on her own traffic circle again, where she has been for many years without being able to really follow through.
She smiles, is enthusiastic, and I see the twinkle in her eye.
'So simple and so effective,' she says.
'Is it really that easy,' she asks.
'Yep', I say, confidently.
'Time after time.
'As long as I know what you have to do it, I'll do it,' she concludes the session.
My own experience
From my own experience, I know what it feels like to stand in that traffic circle, with no one seeing what you are 'struggling' with. Everyone seems to be walking on and no one asks 'What do you need'. And actually, you wouldn't even know the answer to that question.
You can feel unhappy and very alone, while you are really not the only one. You have to do it yourself and if you knew which way to look for a solution you would just do it too, but that's often just it, you don't know.
No one is doing it for you, dear ones, but you don't want that at all, do you? You want to do it yourself, don't you? If you want to know more about the magical meaning of colour, request the free e-book. You'll receive it instantly via email. If you prefer to book a JOYRIDE yourself, you can, of course, do so.
With pleasure,
Ilonka Brakman
www.livingthejoy.nl.
My name is Ilonka Brakman, the owner of Living the Joy. Married to Edwin and mother of 3 boys, and we have a sweet brown Labrador called Bruce. We live in an old school building in a small village close to the sea in Zeeland, The Netherlands.
Creating an atmosphere at home and painting a lot, is what makes me so happy. Refurbishing old furniture and painting or making clothes. In short, I like to turn something old into something new and very personal. Oh yes, I love floor plans of buildings.
I have always felt that there was more in me than I could show, and for years I experienced this as very lonely. As if I was travelling alone when what I really wanted was to be surrounded by like-minded people. My drive is to get everything out of me so that later I will not regret the things I did not do because I did not dare or did not know how to do them.
I am not one of those bucket lists. I feel at the moment what makes me happy, and I follow that feeling. Big things (like unexpectedly going on a trip on my own, to cycling for a while) just live by my feelings.
No one in particular, I am happy with everyone I meet.
That can be anything. Something beautiful in nature, but especially the liveliness of a colourful city, an exhibition, museums and travel. Or an interesting book.
Contact with nice people, painting, working with colour. Leafing through living magazines. Cycling, walking the dog, cleaning and changing the house.
Outspoken, sweet, caring, smart and progressive (I asked them).
Living the Joy, the name says it all. Joy in living and in one's house. I give colour training with the Colour Comfort method, I also work as a Feng Shui specialist to design enjoyable living and working spaces together with my clients. I am also a Nine Star Ki expert because you can immediately see what your strong points are and what your pitfalls are. Everything to feel good and powerful. My offer is on my website: www.livingthejoy.nl
Colournostics is a great tool to work with. The best part is that people choose their own insights and colours. It's astonishing how every time it's right and that it gives an immediate flow. A relieved feeling so that you can make the change you need at that moment.
Very positive, the power of colour combined with clear sentences. From hard work to easy work because the client does it himself in 5 clear steps.
Actually, that is already described above. It is so powerful, so quick and clear. You immediately filter what is going on and what you require by picking colours. In this way, you bypass the thoughts that often get in the way.
The answers you get are intrinsic, you reveal something from your subconscious. You don't have to say anything if you don't want to. Nothing is imposed by a coach or supervisor; everything comes from you. And only then will you understand what is really going on, what you want to change and how you can do that.
There is a huge amount of freedom that comes to you when you take nothing personally.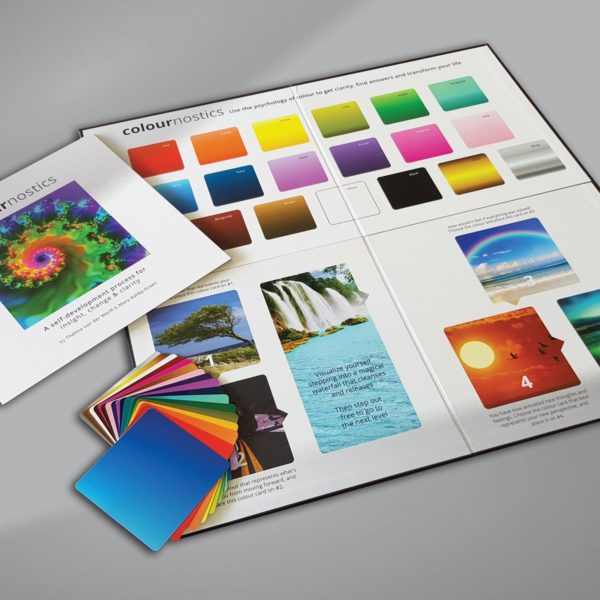 Why Ilonka loves to work with Colournostics
Time and time again, it is always correct. I am so glad I work with Colournostics. What insight and what a magical tool. What an enrichment and deepening. And do you know why? It gives someone direct insight into themselves without long talk sessions where you get stuck in your head.
The client chooses a colour and reads the beautiful sentences that touch, I translate and complement if necessary. Often a listening ear, practical tips and understanding is the nicest thing. Someone who understands what is there and has respect for you. As you can read, I am very enthusiastic, both for coaches and clients because choosing colours is so much fun. A wonderful way to quickly get to the core and the solution.